Marrakech and The Sahara Desert
Private Fully Escorted Tour
September 8- 15, 2022
8 days, 7 nights
The grandeur of the Sahara Desert is truly experienced on this trip as we journey from Marrakech across the High Atlas Mountains to the palm groves of the Draa Valley and the gateway to the desert at Zagora. En route we will enjoy the UNESCO listed 16th-century kasbah of Ait Benhaddou, before continuing for a camel trek and a night under a thousand stars on the edge of the world's largest desert, the Sahara. On our way back to the city, we will stop in the remote village of Tighza and enjoy a peaceful walk and authentic hamman. Finally, there is some free time to enjoy the sights and smells of Marrakech one of the great cities of the Arabic world.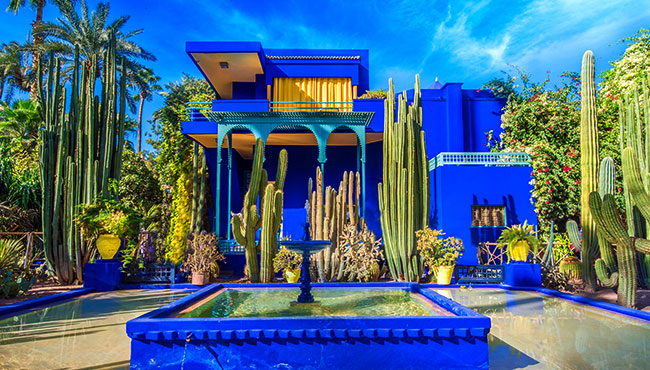 Tour Highlights
Experience varied scenery from the Sahara Desert to the High Atlas Mountains
Journey into the desert Bedouin style, by camel
Spend a memorable night under the stars
Visit Tighza and experience a traditional hammam
Walk in the magnificent High Atlas Mountains
Explore Marrakech with its lively souks and peaceful gardens
6 Breakfast, 4 Dinners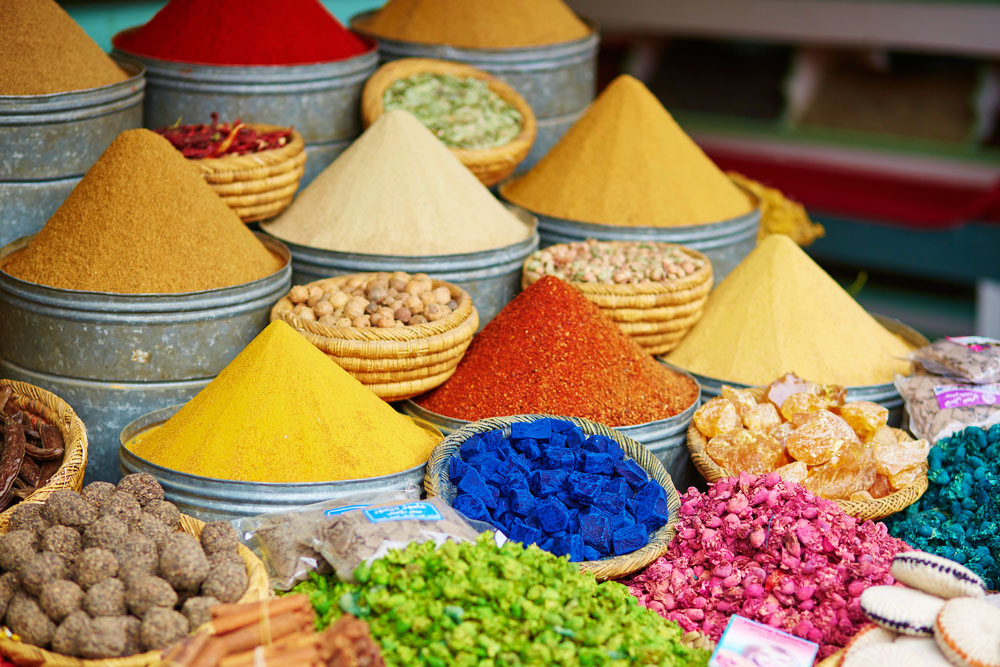 Package Day-to-Day Itinerary & Inclusions 
Day 1, Welcome to Marrakech
Arrival Group Transfers
Group Meeting
Accommodation: Riad Bindoo or similair
Day 2, Across the High Atlas to Ait Benhaddou.
With time to explore Marrakech at the end of our journey, we leave the Red City behind and head into the Atlas Mountains.
Our destination for the day is the well-preserved Kasbah of Ait Benhaddou. This UNESCO World Heritage Site is one of the most spectacular sights of the Atlas, made famous as the filming location for several Hollywood films including 'Gladiator'. The route takes us over Tizi N Tichka pass, the highest in Morocco, arriving mid-afternoon. We will then have time for an afternoon walk around the town.
Accommodation: Ksar Ighenda (superior room) or similar
Meals Included: Breakfast, Dinner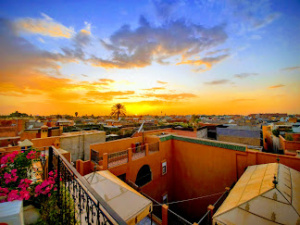 Day 3, Draa Valley
After a short transfer, our adventure begins in Ouarzazate, nicknamed the 'door to the desert' because it used to be a crossing point for African traders on their way to Europe.
It is now the site of the Atlas Film Studios, the setting for many Hollywood films, as well as Game of Thones and BBC's Atlantis. It's also home to the impressive Kasbah Taourirt. Originally this kasbah was later owned by T'hami El Glaoui who is better known as the Lord of the Atlas. The Krupps field gun that secured the Glaoui power is now displayed outside the kasbah.
We then head south along the Draa Valley, a huge palmery containing over four million palm trees, bordered by many ksours (fortified villages). Here we embark on our camel trek and venture further into the desert, where we spend the night at a luxury Bedouin camp for some spectacular stargazing. Surrounded by silence and millions of stars lets us appreciate the immensity of the Sahara Desert.
Accommodation: Azalai desert Morocco camp or similar   Meals Included: Breakfast, Dinner
Day 4, Zagora
After waking in the silence of the desert we take a return camel ride and a short drive to Zagora.
Here there is time to rest, have a shower and enjoy the pool. Later in the afternoon we can take the optional walk in to the valley and around this famous desert outpost.
Included Activities
• Camel Ride
Accommodation: Azalai Desert lodge or similar
Meals Included: Breakfast, Dinner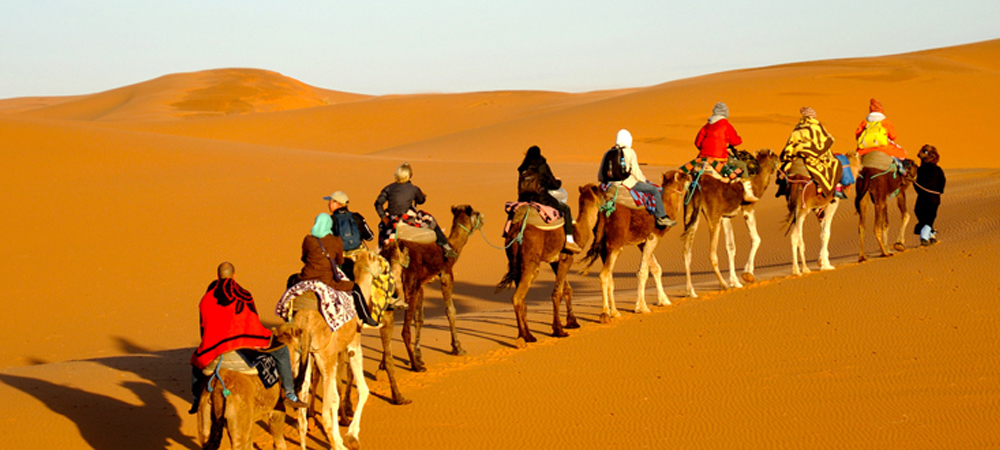 Day 5, Tijhza Village
Traveling west through Draa valley to join Ounila valley at the High Atlas Mountains.
Start our walk from Animeter on a gentle uphill gradient to our well-equipped Riad at Tijhza where we spend the night.
In the evening we will visit the village hammam, built with money raised by Exodus clients. This is a truly authentic experience and terrific fun. It is very much a traditional hammam and you are likely to get the opportunity to mix with the villagers, which further adds to the experience. A standard treatment is included, but you will need to purchase a scrubber and soap for 20MAD (£1.50) and pay a customary tip of 20MAD.
Refreshed, we return to the Riad for our final dinner in the mountains.
Accommodation: Riad Bouchahoud (standard room) or similar
Meals Included: Breakfast, Dinner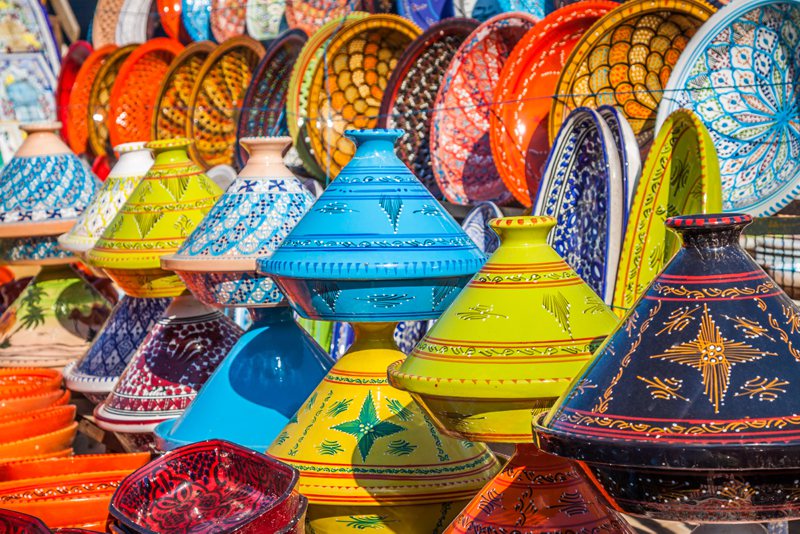 Day 6, Return to Marrakech
There is time to relax this morning on the Riad terrace, which has wonderful views across the fertile Tijhza Valley. Alternatively, we offer an optional 3-4 hour trek through the villages of this remote area, passing fields cultivated by the Berber women, with the peaks of the High Atlas as a fitting backdrop.
After lunch, we leave the Riad making the scenic drive over the High Atlas Mountains back to Marrakech, with some stunning scenery along the way. Once again, we cross Tizi'n'Tichka, at 2260m which is the highest road pass in Morocco.
Back in Marrakech we check-in to our hotel. In the evening we visit Djemma el Fna, the open-air central square around which Marrakech revolves. The name literally means 'place of death', as the sultans once displayed the heads of their enemies here. Now, with the food stalls, snake charmers, juice-sellers and acrobats, it is a place of nighttime entertainment for locals and tourists alike.
Accommodation: Hotel Jnane Tasma (standard room) or similar
Meals Included: Breakfast
Day 7, Explore Marrakech
Today we set off on foot on a guided tour to see the spectacular sites of Marrakech.
Our city guide will lead us to the Bahia Palace and the Saadian tombs, which date back to the 16th century. We continue through the labyrinthine of souks, bartering for souvenirs, or we can visit the largest mosque in Marrakech, Koutoubia. Alternatively, you may prefer to head off on your own today and take a calèche ride (horse-drawn carriage) to the peaceful Majorelle gardens, owned by Yves St Laurent and decorated throughout in indigo blue; or simply enjoy a hammam (traditional Moroccan steam bath).
Included Activities
• Marrakech guided tour
Accommodation: Hotel Jnane Tamsna (standard room) or similar
Meals Included: Breakfast
Day 8, End Marrakech
There are no activities planned for the final day and you are able to depart the accommodation at any time.
Included Activities
• Departure group transfer
Meals Included: Breakfast
Optional Add- On
Day 9- Day 12
Visits to Fes, Chefchaouen (The Blue City), and Casablanca
More details coming soon…
*Any prices quoted exclude specific costs/measures which may be required as a result of changes due to COVID-19 health and safety restrictions. *
Cancellation Schedule: Per Tour Operator Booking Conditions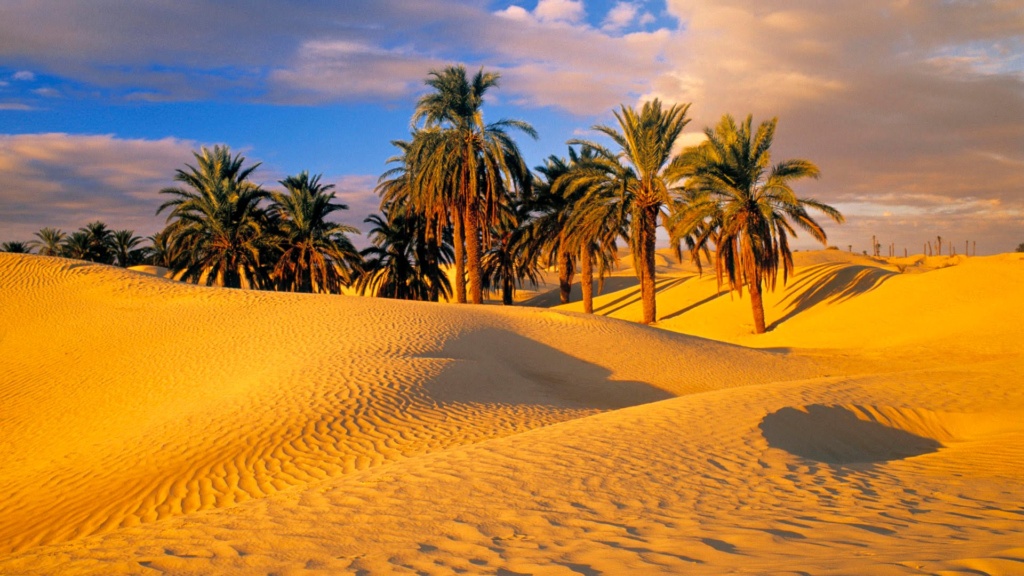 Package price does not include:
International Airfare
Travel Insurance
Entry Visa
Airport tax services
Any new taxes by either country
Any extra meals or site visits not mentioned
Gratuities for Guide/Driver/Escort/Hotel
$3250 per person (based on double occupancy)
Single supplement: $1625 
The initial deposit of 10% ($320) per person secures your spot(non-refundable)
Second payment of 20% payable by November 30, 2021
Third payment of 20% payable by January 28, 2022
Fourth payment of 30% payable by April 29, 2022
Remaining balance due by June 17, 2022
*Additional payments can be made at any time prior to scheduled due dates*
Optional Add-on: Visit to Chefchaouen (Morocco's Blue City)
September 15- 20th, 2022 (2 nights Fes and 3 nights Casablanca) Details to be announced
Travel insurance is highly recommended to cover unforeseen interruptions, delays, medical services, or cancellations.
**Package prices are based on a minimum of 10 travelers*